Life's getting a little bit more like normal, and you know what that means?
Football's back in business!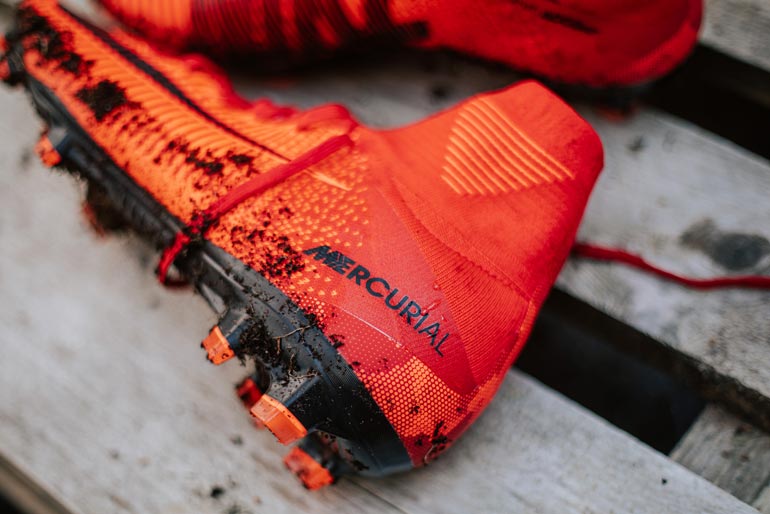 Muddy boots, aching muscles – after a year stuck inside, what could be better? Although for most of us (myself included), our football boots have been stuck in a kitbag, needing some attention.
So, for those of you who have got mud-ingrained football boots, here is a handy guide on how to clean your football boots. Whether they've come out of a dusty cupboard or off of a muddy pitch.
How to Clean Your Football Boots
1. Before you even start cleaning them, make sure you take them off properly. Undo the laces, rather than just slipping them off with the laces tied.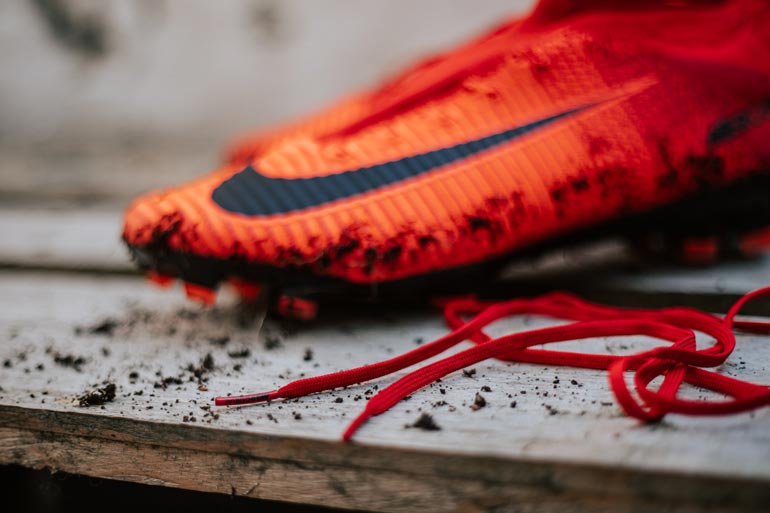 2. Ideally, you should remove the laces completely and right away. This stops any mud drying in the shoelace holes. The laces can be put in the washing machine.
3. If the mud on your boots is dry, bang the soles together to remove any loose mud.
If the mud on your boots is wet, get a damp cloth or towel and rub the large clumps of mud off with cold water.
TIP: Wipe wet mud off over a sink, or outside, then you don't have to worry about clearing up so much mess afterwards.
4. Once the excess mud is off, use a stiff brush to get any ingrained dirt off. Be careful if you have leather boots – they can be scratched if you apply too much pressure. Wire brushes are a big no, no.
TIP: Use a toothbrush to clean around the studs and inside any grooves.
5. Once all the mud is off, stuff your boots with newspaper to help absorb any excess water. Place the boots on newspaper and leave them in natural light to dry.
TIP: Depending on how wet your boots are, you may have to change the newspaper several times. Keep some aside so you always have some ready for the wet and muddy days.
Cleaning Football Boot Studs
Screw-in studs can be difficult to manage. If you don't take care of them, they can rust in wet conditions, which can lead to damage.
You can also be injured whilst wearing your boots if your studs don't offer the proper support.
If you have screw-in studs, make sure you take them out after playing in wet weather. Dry them separately to your boots – you can either use a towel or leave them to dry on newspaper.
Wait until your boots are completely dry before screwing them back in.
Make sure to grease your studs with a lubricant when putting them back in and don't screw them in too tightly. Most sports shops sell lubricants, and you can find some online just as easily.
If all else fails, Vaseline will do a job. It also stops mud from sticking to the studs.
Make sure your studs are always in good condition. There are strict guidelines on football boot studs – if they are burred or have sharp edges, you may not be allowed to play.
Cleaning Football Boot Laces
Your bootlaces are the easiest bit to wash. They can be put in the washing machine with the rest of the laundry. Just put them in a washing bag to prevent them from getting tangled up!
Cleaning Smelly Football Boots
Okay, maybe not everyone will care, but there does come a point when boots smell… bad.
You can't blame them.
Running around on a pitch for several hours – mud and sweat do not age well. But spending a huge amount of money just to make your boots smell nice?
Well, sometimes, it's just better to deal with the smell.
The bacteria that causes the smells, though, can do significant damage to both your feet and your boots. So, in the interests of saving you from dealing with yucky boots, and your teammates from dealing with the smell radiating off of them, here are four things you can use to make your boots smell utterly fragrant without ever having to leave the house.

1. Bicarbonate of Soda.

Sprinkle one teaspoon of bicarbonate of soda into each of your boots.
Shake it around to make sure it gets into all the nooks and crannies then leave it overnight.
Tip it out in the morning and they should be fabulous.

2. The freezer and a sealable bag.

Make sure to check that this is okay with the owner of the freezer before doing this one…
Put your boots into the bag and pop them in the freezer overnight.
Make sure the bag is properly sealed and your boots are dry first.
Take them out the next day, and the smelly bacteria will have gone away.
3. Salt.
Put two teaspoons of salt in each boot and shake it around to disperse it. Wait a few hours and they'll be smelling better.

4. Charcoal.

If you have a barbecue, break any leftover charcoal into small pieces and push it into a pair of tights.
Stuff the tights into your boots overnight and voila – no more sweaty smell.
Dos and Don'ts When Cleaning Your Football Boots:
The Dos & Dont's
Do's
+

Check what your boots are made of. Football boots are made in a variety of materials, and what is good for one might not be good for another.

+

Check the care instructions. Most retailers will include information on products you can use to help clean them.

+

Clean them on a regular basis. Leaving them covered in mud is fine once in a while, but doing it on a regular basis will shorten their lifespan.

+

Find a good boot oil. If you have leather boots, investing in a good boot oil or Dubbin is a must.

+

Check metal studs on a regular basis to ensure they aren't rusting.

+

If the football boots are leather, they can be polished to retain the colour. The polish also helps to 'feed' the leather.
Don'ts
−

Use a kitchen or bathroom cleaning agent, such as bleach. It will clean your boots faster, but it will damage them in the long run.

−

Put them in the washing machine. Unless the label says otherwise, most football boots aren't machine washable. Putting them in the wash may be an easy clean, but it will also damage the entire boot.

−

Put your boots and studs in the tumble dryer. It will dry them quickly, but the heat will damage both the leather and any stitching or adhesives used in your boot.

−

Use a wire brush when cleaning your boots. It will scratch the leather, especially if you press too hard. Instead, try one made with natural fibres.

−

Leave muddy boots to dry in the sun. Dry mud may be easier to remove than wet mud, but leaving mud to dry will damage the leather.

−

Use Dubbin on synthetic boots. It is for use on leather boots only, and will damage synthetics.
I hope this guide and information has helped you figure out how to keep your footy boots in tip-top condition.
The uses shown and described for cleaning your football boots were provided to Footy-Boots.com by users themselves. These uses haven't been tested by Footy-Boots.com and do not constitute a recommendation of suggestion for use by Footy-Boots.com. Common sense should be exercised whenever using cleaning your football boots. Always follow the instructions from the football boot manufacturer and take heed of any warnings printed on the packaging.