The Bundesliga has overtaken the English Premier League in shirt sponsorship income.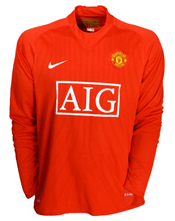 The Premier League may consider itself financially the biggest league in football, but figures released today show that German football's Bundesliga has overtaken the Premier League's income for'  shirt sponsorship.
Manchester United also move off of the top slot, Bayern Munich trump Manchester United in having the single most valuable shirt sponsorship deal.
Hartmut Zastrow of SPORT+MARKT;
Due to the weak British pound, Bayern Munich beat Manchester United to the title of the most valuable jersey deal.
The main reasons why the Bundesliga now generates higher income from jersey sponsorships than the Premier League lies in [clubs] lacking jersey partners and the current weakness of the British currency. The sponsor of West Ham United, XL airlines, went bankrupt, West Bromwich Albion have yet to find a partner and Aston Villa now bears the logo of a charity organisation on its jersey.
The Bundesliga is the winning league in this jersey report after slipping behind the English FA Premier League last season. For the first time revenue from jersey sponsorship in the Bundesliga exceeds the 100million mark. No other league has reached such a consistency of sponsorship deals for all teams.