Many of us are gearing up for the new season, which often means having to break in a new pair of football boots and that can literally be a pain.
This top 10 guide, will help you and your football boots perform better, sooner, and help reduce susceptibility to injury.

You know what it's like. You need a new pair of football boots, but with a new pair of boots you may have to go through pain to break them in.
New football boots can mean sore feet, that is until the new football boots and your feet get used to each other. Even if you are dusting off last year's equipment, your feet and football boots may need to readjust to each other again.
Fortunately, many modern football boot materials are now softer than they used to be, reducing the time needed for you to 'break in' your new football boots. Even so, it's highly recommended that you follow this guide as injuries can happen and who wants to be sidelined due to a new pair of footy boots?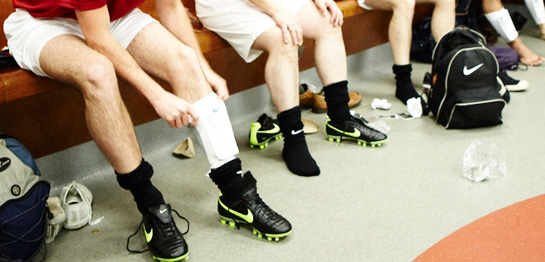 The Ultimate Guide to Breaking in Your New Football Boots
1. Ensure that your new football boots are the correct size for you, considering length and width. A wrongly sized football boot is a sure fire way to injured feet. Forget rumours of professionals wearing a size too small, specialists confirm that football boots that are too small for the foot can lead to injury.
2. Before wearing new football boots, rub Vaseline on all of the contact points on the foot that are susceptible to blistering, such as your toes and heel. This will help reduce friction against your skin and help prevent blisters forming.
3. Where possible, try wearing your new football boots to walk around in naturally, without exerting pressure on your feet like you would do in game conditions. Walking around the garden or a local park in your new football boots can help your foot and boot get used to each other and you may spark a new fashion!
4. Gradually introduce the new football boots during training sessions. Start by aiming for a maximum of twenty minutes of play in your new football boots. Should you start feeling any pain, then change the football boots immediately.
5. Continue wearing your football boots in training for progressively longer spells, or until the football boots feel very comfortable.
6. If you feel like you are struggling to break the football boots in, try dampening the upper slightly before using them, but don't soak the boot. Also, don't use very hot water as this can melt the adhesives used on the football boot. Dampening them lightly with a sponge should do the trick.
7. After using the football boots, clean any debris or dirt off of the football boots with a soft brush or sponge.
8. Stuff the football boots tightly with newspaper after use, or use a shoe stretcher. This will help keep the football boot in good shape and will help dry the moisture out of the football boots.
9. Let the football boots dry naturally after use, so keep the football boots away from heaters and direct sunlight.
10. If you continue to have problems breaking in a new football boot, even after regular short intervals of using them, you may have to consider replacing them.
Do you have any tips to share on how to break in new football boots? If so, please share your advice in the comments section below.