Whether you're buying for the new season, or have treated yourself to a new pair of boots, it means having to break in a new pair of football boots and that can literally be a pain.
This guide will help you and your football boots perform better, sooner, and help reduce susceptibility to injury.
You know what it's like. You need a new pair of football boots, but with a new pair of boots, you may have to go through pain to break them in.
New football boots can mean sore feet, that is until the new football boots and your feet get used to each other. Even if you are dusting off last year's equipment, your feet and football boots may need to readjust to each other again, so there will be another breaking in period.
Fortunately, many modern football boot materials are now softer than they used to be, reducing the time needed for you to 'break in' your new football boots. Even so, it's highly recommended that you follow this guide as injuries can happen and who wants to be sidelined due to a new pair of footy boots?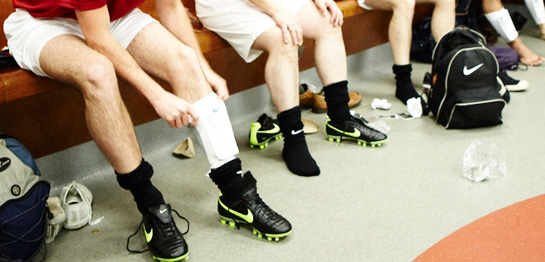 Step 1. Check Your Size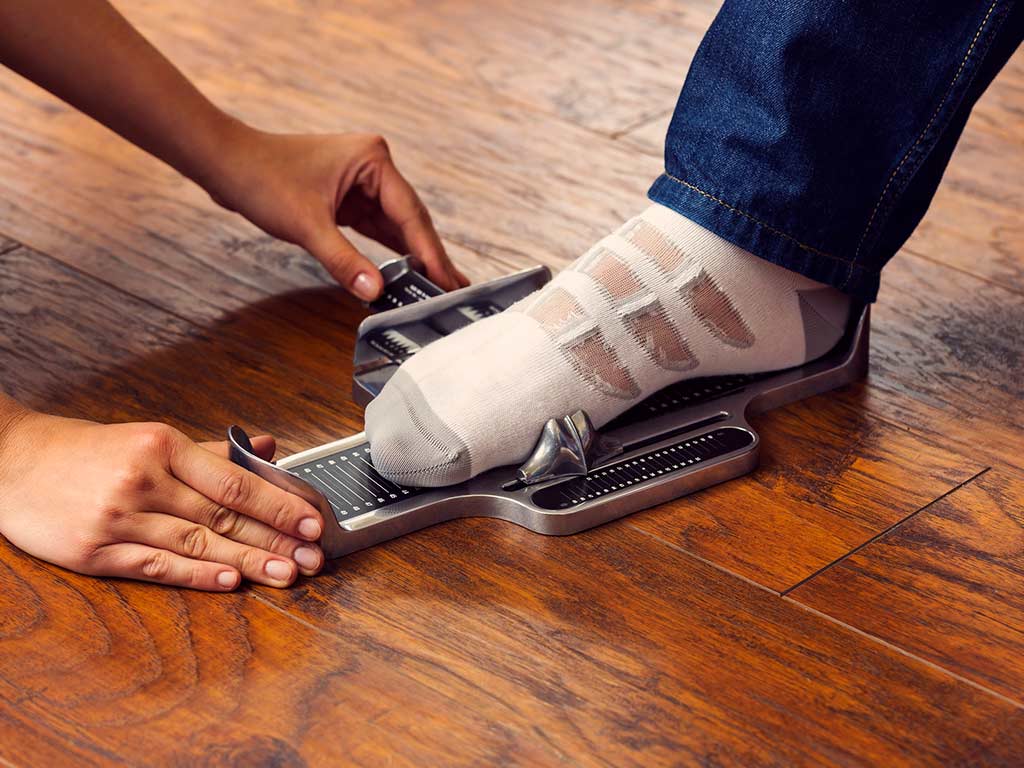 Ensure that your new football boots are the correct size for you, considering length and width.
A wrongly sized football boot is a sure fire way to injured feet. Forget rumours of professionals wearing a size too small, specialists confirm that football boots that are too small for the foot can lead to injury.
The best way to measure your feet is in a shoe or sports store, specialists will be able to use a tool as you see in the picture to measure both the length and width.
It can also be done at home and here is a useful tutorial to help you do that.
Step 2. Reduce Friction
Before wearing new football boots, rub Vaseline on all of the contact points on the foot that are susceptible to blistering, such as your toes and heel. This will help reduce friction against your skin and help prevent blisters forming.
Step 3. Ease the Boots In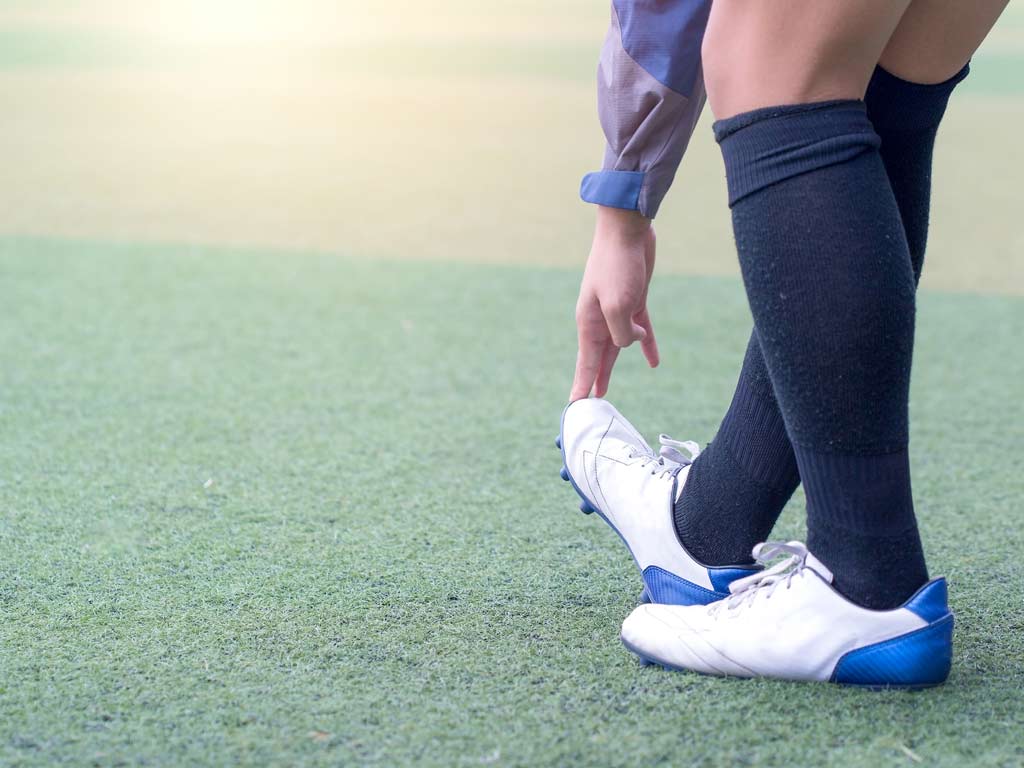 Where possible, try wearing your new football boots to walk around in naturally, without exerting pressure on your feet like you would do in game conditions. Walking around the garden or a local park in your new football boots can help your foot and boot get used to each other and you may spark a new fashion!
Step 4. Train in Boots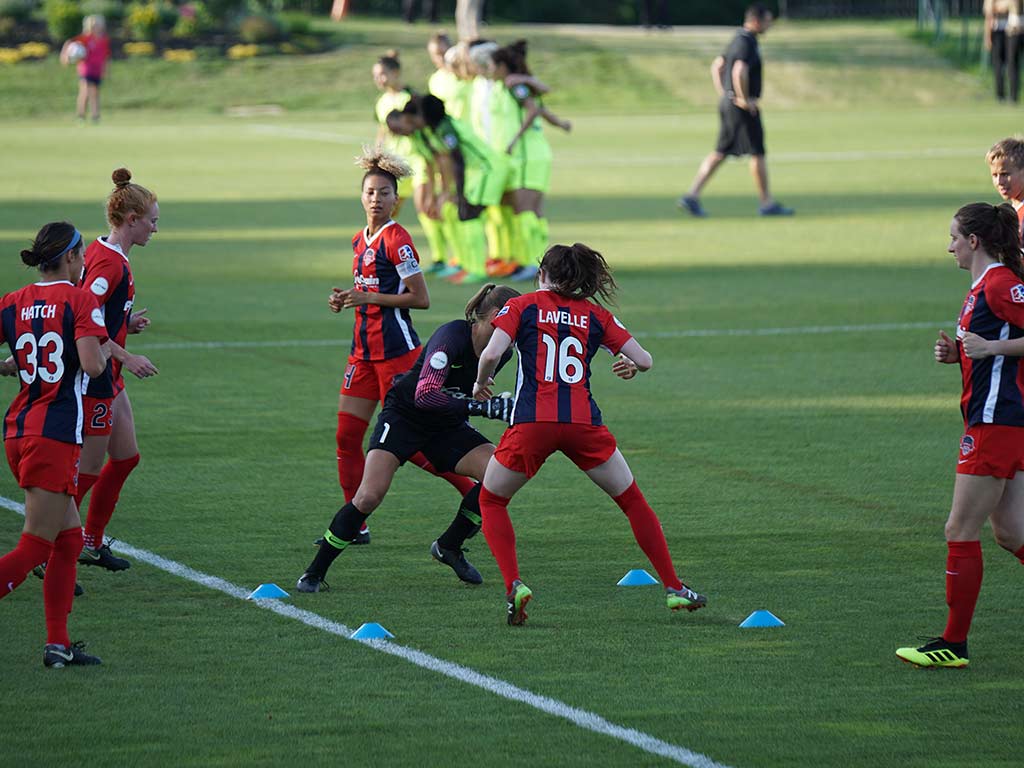 Gradually introduce new football boots during training sessions. Start by aiming for a maximum of twenty minutes of play in your new football boots. Should you start feeling any pain, then change the football boots immediately.
Continue wearing your football boots in training for progressively longer spells, or until the football boots feel very comfortable.
Step 5. Dampen Your Boots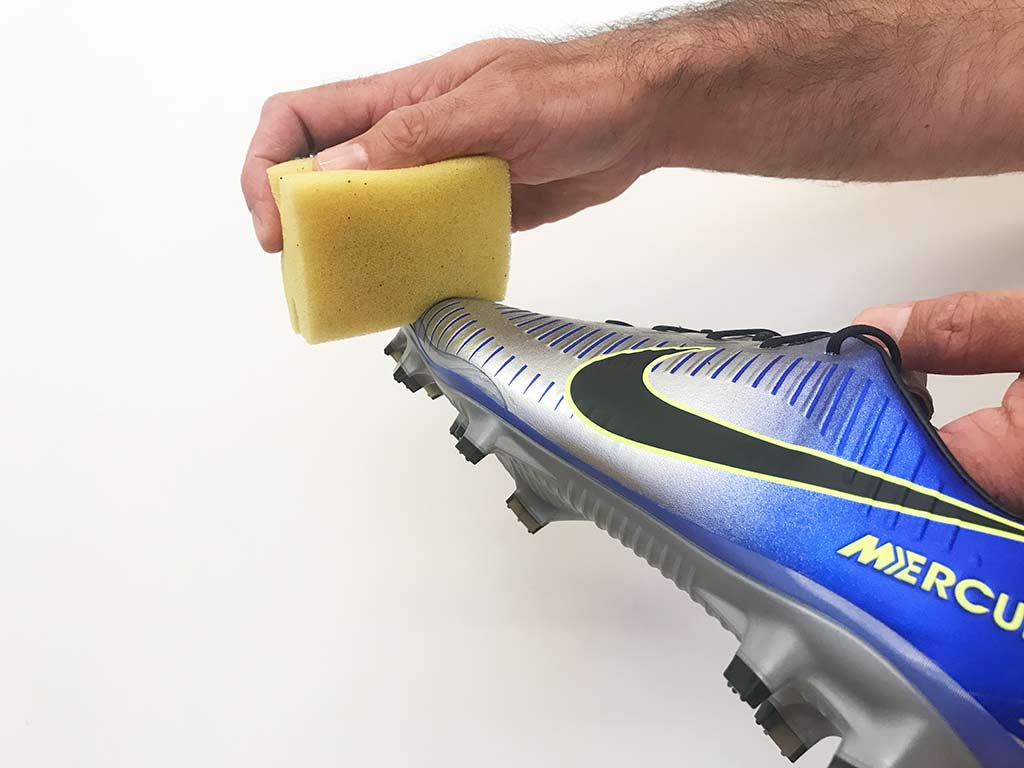 If you feel like you are struggling to break the football boots in, try dampening the upper slightly before using them, but don't soak the boot. Also, don't use very hot water as this can melt the adhesives used on the football boot. Dampening them lightly with a sponge should do the trick.
After using the football boots, clean any debris or dirt off of the football boots with a soft brush or sponge.
Step 7. Use a Shoe Tree
Stuff the football boots tightly with newspaper after use, or use a shoe stretcher. This will help keep the football boot in good shape and will help dry the moisture out of the football boots.
Step 8. Dry Them Naturally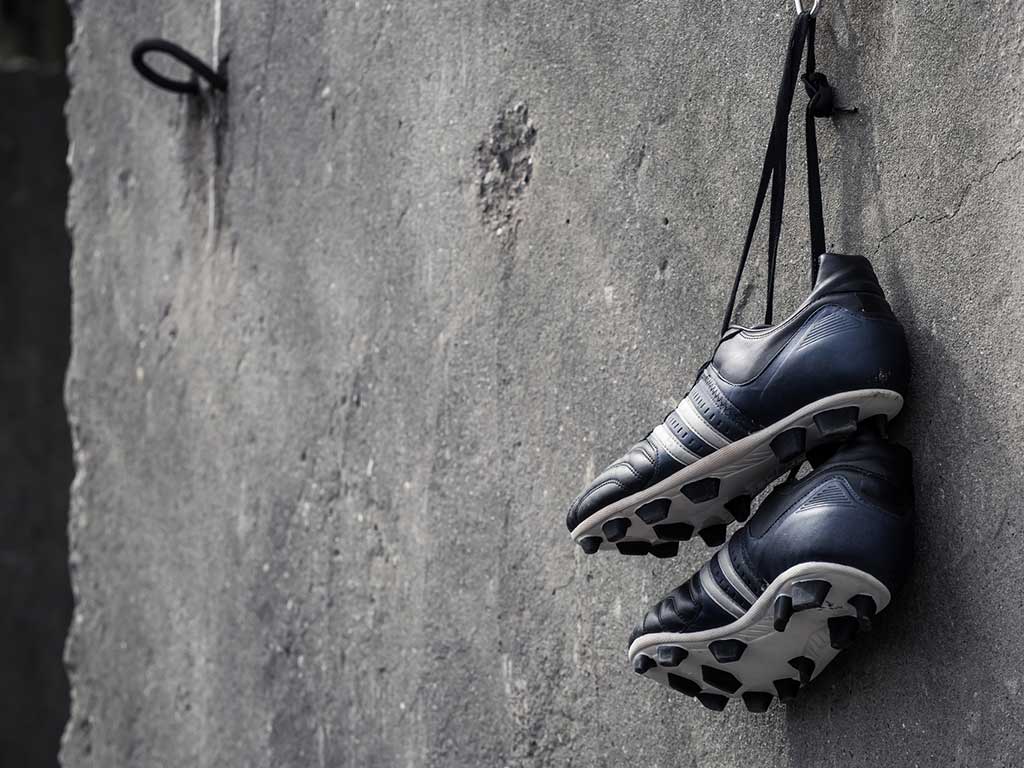 Let the football boots dry naturally after use, so keep the football boots away from heaters and direct sunlight.
Frequently Asked Questions
Since we first published this guide to breaking in new football boots, we've received lots of comments, questions and tips.
Here are some of the most common frequently asked questions with answers:
Should my football boots be tight?
There's a common myth that suggests that you should buy football boots that are a size or two smaller than your foot size.
Football boots that are too tight can cause serious, long-term problems. Problems can range from neuromas – painful enlarged benign growths of nerves between the toes that require surgery – and sesamoiditis, which affects two small bones beneath the first metatarsals which can get inflamed or even rupture.
It is best to wear the correct size of football boots for your feet. Your boots should have a snug fit, but should not be too tight.
Can you stretch synthetic football boots?
Synthetic football boot materials do not stretch as much, or as quickly as a leather boot. Also, the type of synthetic material used will dictate how flexible they are.
Cheap football boots tend to have little give in them in general, so bare this in mind.
If you need to gain a bit of room in your synthetic boots, the best way is by wearing them. The boot will mould to your foot with regular use due to your foot stretching the material and moisture and heat from your foot will help make the boot more pliable.
Some people recommend a hair dryer on low heat also helps make the material pliable but use this with caution as you do not want to melt the adhesive that holds the boot together.
How can I help prevent getting blisters when I break in football boots?
Blisters occur when the top layer of skin pulls away and fills with fluid, they are caused when there is friction between your foot and your boot.
Moisture is the main culprit. In your boot moisture could be coming from sweat or from outside sources like a wet pitch.
When wet, the skin is softer and more vulnerable, so your top layer of skin is more likely to part from lower layers and fill with fluid.
You'll notice many pro's wear ankle socks, one of the reasons for this is that these socks help wick the moisture away from the foot, reducing friction.
As well as trying to reduce the moisture in your boot, as we mentioned in the article tips, Vaseline can help protect against blisters by lubricating the foot where the friction occurs.
In the comments, @Jase mentions using blister plasters. We've used them too and they definitely help. Blister plasters work like adding a second layer of skin to your foot, they can also come with cushioning and a wound healing dressing. You can buy them at the pharmacy or on Amazon.
Does wearing your boots in a bath really help?
This might sound odd, but the answer is yes. Sitting in a hot bath with your boots on can help you break them in.
A few years ago we met up with Theo Walcott and his top tip was that he sits in the bath with new boots before he uses them. The water and heat helps your boots mould around your foot, some people do this two or three times before wearing their boots in a game.
Troy Deeney does something similar, he uses a steamer. At Watford, they have a steamer for boots and he talks briefly about it in this video.
---
Now you know how to break in your new football boots, take a look at our section on Caring for Football Boots so you look after them and prolong their life.
Do you have any tips to share on how to break in new football boots? If so, please share your advice in the comments section below.