When it comes to the world of football boots, the Speciali name is right up there with the Predator, Morelia and Tiempo (though not quite on par with the King or Copa Mundial) as a genuine stalwart of the market.
Whilst the Speciali R was Revolution, the Umbro Speciali III aims to be Evolution. Is it a successful update? Or a pretender to the throne? Find out below…
Note: Whilst all pictures here were taken on an artificial pitch, at no point did I use the boots on anything but natural soft ground.
Comfort & Fit – 3/5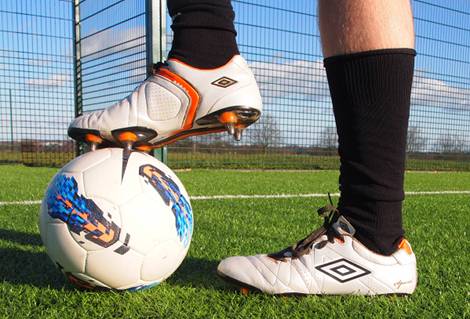 Undeniably solid straight out of the box, I took advantage of the Soft Ground soleplate on our Umbro Speciali III to put them straight into a game on a pretty unfavourable pitch.
Thankfully, the Speciali III are as gentle on your feet as you would expect them to be, with zero rubbing on any of the 'hot-spots' you'd expect from a pair of new football boots.
Losing them two marks, however, is the fit opposed to the comfort. The Kanga-Touch upper is very roomy around the toes; which is great for comfort, but takes a couple of sessions to bed in properly and lose that 'airy' feeling.
Additionally, now the external A-Frame Cradle has been ditched, Umbro have gone for a more snug-fitting midfoot to compensate which, again, breaks down after a couple of wears.
The length of the boot is true to size, but be sure to give them a training session or two before introducing them to a match for maximum comfort.
Feel & Touch – 4/5
Picking up nicely from the last section; when that Kanga-Touch upper has been broken-in, you're in for a real treat!
Hopefully you can see on the photos just how much the upper has moulded and creased in the toe area, giving them an exceptional level of 'give' where you need it most.
Not only does this send the comfort through the roof, but it gives a really cushioned feel on the ball. Absolutely outstanding work from Umbro to get a synthetic K-Leather to work this well.
Looks – 5/5
Much like the Tiempo Legend IV Elite, the mixture of classic design with a splash of modern ingenuity has really done the business for Umbro.
Breaking out the Umbro Speciali III for the first time prompted a chorus of approving murmurs from my increasingly judgmental team, so hats off to Umbro for a 100% approval rate.
Maintenance – 5/5
As this is the SG model, I didn't have to deal with any labyrinthine soleplate designs to dig mud and dirt out of, black laces hide all manner of sins, and the Kanga-Touch is practically wipe-clean.
One word of caution; there's a suede-like lining on the collar of the Speciali III which traps mud like nothing else on earth! Always make sure to give it a wipe down after you've played on a trickty pitch.
Performance – 4/5
Bringing the ball under your spell is where the Umbro Speciali III truly excels. To flog an already-deceased equine, the Kanga-Touch is more-or-less everything you could want in an upper, offering a truly great level of control on the ball.
The side-offset lacing and instep pass-pad conspire to offer a generous sweet-spot to guide slide-rule passes and controlled shots from, whilst clever use of stitching in the forefoot gives players who love to whip in crosses and set-pieces a great platform to work with.
As a heavier boot, shooting in the Speciali III is an all-over satisfying experience, but lacks the fizz of a real 'power' boot.
Value – 5/5
At £79.99 / $129.99, the Umbro Speciali III are almost half the price of some of their contemporaries, and – unlike some 'budget boots' – actually offer a comparable level of performance.
Whilst the price-tag might not reflect it, Umbro's latest is packed full of features that will make you a happier player on the pitch.
Overall – 5/5
After a couple of snags in the break-in period, the Umbro Speciali III quickly won me over. A soft touch on the ball, a wealth of nifty design touches and 'just-right' level of performance features added to the legendary Speciali give Umbro another strong addition to their range of football boots.
A synthetic leather upper, cut-off tongue and side-offset lacing are all things that – in my opinion – shouldn't be on a Speciali boot, but I don't think Umbro have devalued the Speciali name by introducing them to win over a new generation of players.
So long as you're willing to break them in properly, (which, to be fair, doesn't take long) the Umbro Speciali III are a worth the consideration of tough-tackling defenders, midfield generals and goal-poachers alike.