We love a good community spot here at Footy-Boots, so waking up this morning to an email from fellow football boots fan Johan was exactly what we needed to get that Friday feeling!
Johan came across a video of AC Milan striker Zlatan Ibrahimovic giving an interview for Nike's Inside the Pro series on the set of the photoshoot for the Nike Pro Combat Range (that we featured yesterday!) and was sharp-eyed enough to notice the big Swedish striker was wearing a bold blue and silver pair of Nike Mercurial football boots.
Based on previous Nike colourways, we can only guess that these might be Orion Blue/Metallic Silver/Obsidian, but what we know for sure is that these boots haven't hit the shelves yet.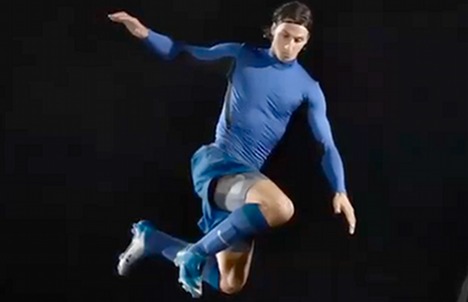 There are a couple of unique attributes to these football boots that we picked up on, upon closer inspection. Firstly these boots have blue studs, the same colour as the upper – which is a feature that is yet to grace any of this generations top end Mercurial cleats, as both the Mercurial Vapor VI and the Nike Superfly II have Orange FG studs regardless of colourway.
Check out the Barcelona socks! That must mean this video was filmed ages ago!
The lack of a lace-cover and coloured studs implies that these mystery football boots might be a take-down model like the Mercurial Victory, but the high-res (and greyscale) promotional image shows the studs looking more like the Superfly II we know and love.
This could mean one of three things:
We can expect new Superfly II's to have colour-coordinated studs
Nike Photoshopped the final image to make them look more like their top-end football boots
Or, these were a one-off pair that were designed to look good when converted into black and white for the promo-images.
The finished Product with the boots toned-down to grey-scale.
We don't know that – but our head hurts from all this speculating!
What do you think? Chip in using the comments below!