After a wildly-popular 'Football Boots for Wide Feet' article a little earlier in the season, we figured we'd throw our boney-footed readers…well, a bone, with a similar article, rounding up the best football boots for narrow feet.
Why is it important to get your sizing right when buying football boots for narrow feet?
Well, it's simple; the guys at Nike, adidas, PUMA and all the rest know that a player's ability relies on getting their feet close to the ball.
As anyone with skinny feet knows, having a boot that's built for a wider foot means it can never physically get close to the ball, and can lead to slippage or – even worse – injury.
So, if your hooves are on the skinny side, here's a handful of football boots for narrow feet we personally recommend.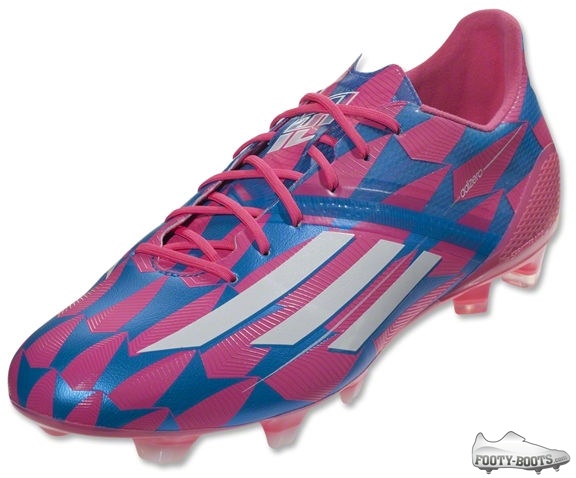 One of our go-to football boots for narrow feet, the synthetic adidas f50 adizero was almost custom-built for a slim foot.
The boot is narrow in the toe-box, and has a 'blade-like' shape that makes it great for a narrower toe.
Stretchable, but with a very slimline soleplate, the Mercurial Vapor Superfly IV is both narrow and a little long-fitting.
If other boots are just too roomy, going half a size down in these football boots will give you an unreal fit – they were built for slim feet.
Always a popular request on our YouTube channel, there's something about speed boots that just makes them perfect as football boots for narrow feet.
If you have wider feet, the stretch-less microfibre synthetic upper and external EverFit cage would be a put-off; if you've got slim feet, the evoSPEED 1.3 is practically a dream fit.
Another boot with that 'blade-like' toe, but with the touch and feel of top-tier kangaroo leather is the Mizuno Morelia Neo.
If you're after a heritage release but need a narrow-fitting football boot, the Morelia Neo is an absolute must.
Warrior Skreamer – Synthetic
The new Warrior Skreamer has a wonderful, tactile microfibre upper that feels absolutely phenomenal in-hand and on the ball – but with all that tech going on with the exterior of the boot, there's not a lot of stretch to be had.
Combine that with the boot's natural contours in the forefoot and these are perfect football boots for narrow feet for players who want something tough and tech-y.
Under Armour Blur Carbon IV
Another boot that caters to a ver specific foot shape, Under Armour's latest speed release doesn't pack a lot of room into the toes.
The midfoot is also fairly linear thanks to a Carbon Fibre shank that runs from the heel to the forefoot, keeping the boot snug from back to front.
Noticing a pattern yet (no, not the Solista's tiger-stripes!)? Another synthetic speed boot that's great for slimmer feet is the Lotto Solista.
It's one-piece upper makes for a perfectly mouldable fit that won't over-stretch.
Nike Premier
Ah, more leather at last! Yes, it's hard to believe but football boots for narrow feet really can have it all; leather, looks and a price-tag that you'll love.
Nike's 'Copa Killer', this heritage inspired release isn't as roomy as adidas' legendary boots, but does boast a more narrow toe-box.
adidas Predator Instinct
The Predator Instinct might not seem like great football boots for narrow feet at first glance; the chunky design and fairly shallow lacing system don't seem to allow a lot of adjustment for wider feet.
But the low-profile toe and ergonomic forefoot ControlFrame actually make them a great for folk whose feet are just a bit on the narrow side.
Whilst not boasting as narrow a base as the Superfly, the Magista does have a little more padding on the interior.
This means players with average-to-narrow feet can stick to their regular size and still get a nice, snug fit.
Mizuno Basara TC-001
Another synthetic speed boot rounds up our list of the best football boots for narrow feet.
The Mizuno Basara has a super ergonomic shape and a really deep lacing system that allows players with slim feet to get the boot nice and snug.
Any boots that we've missed that you might recommend?
Let us know in the comments!