There are times when we wish we could stop reporting on David Beckham, but the 37-year old keeps making headlines and catching the imagination wherever he goes – and the sporting world was watching as he took his first steps on a pitch in French football last night.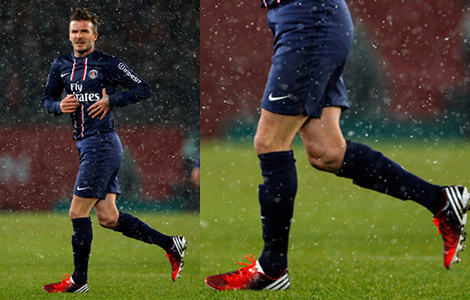 And as he made those first steps, Becks made sure us football boots fans weren't left without something to talk about as he debuted a pair of miadidas creations that had been whipped up to mark the' occasion.
It's fair to say there's definitely a PSG theme to Beckham's new footwear -' the former England captain explained via his Facebook page that eldest son Brooklyn helped him pick the colours to match his new club kit.
As well as the deep Red and Navy of his new football club, Beckham's boots contained much of the customary embroidery that we've come to expect from one of the players who brought boot customisation to the fore.
Both boots bare the names of Beckham's three sons and daughter on the outside of each boot, with his new number – 32 – just below.
Ever the PR-friendly type, Beckham also continued his tradition of baring the St. George's cross of England on one boot (his favoured right) and the flag of the country he's playing in on the other – in this case the Tricolour of France.
Beckham's PSG debut was a memorable one, helping PSG to a 2-0 win over Marseilles in the French 'clasico', in a tightly-fought contest that hinged on the outstanding performance of Paris's stopper,' Sirigu.
Beckham was brought on as a 76th minute sub for Javier Pastore, and linked up well with fellow-Predator man Jeremy Menez ' who was able to steer the ball to the lurking Zlatan Ibrahimovic who deflected home PSG's second.
Thanks to Dan AFC for sharing this with us on our Facebook wall!