As the LA Galaxy took on the Seattle Sounders in their first game of the MLS post-season, all eyes were on the Western Conference Champs – and in particular, their all-star attacking force of Landon Donovan, Juninho, Edison Buddle and David Beckham.
But it was Beckham who caught our eye this weekend (despite the match-winning strike of Buddle) as he wasn't in his now-customary pair of all-red adidas Predator_X's – instead in a much cleaner looking White/Uniform Blue pair of football boots.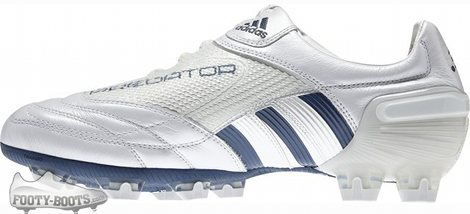 Looking something like the old Champions League adiPure III's, Becks' new adidas Predator_X's look really simple and classy – a far cry from the bold red football boots he's been wearing of late.
An interesting design feature of these new Predator_X's is the placement of David Beckham's personal logo – unlike his previous two Beckham Predator_X DB's, his signature design is no longer embedded in the SwerveZone, and can instead be found on the heel of these tasteful football boots.
Reading into the colourway (as we love to do!) the White/Uniform Blue Predator_X DB is a perfect match for the LA Galaxy home (and away!) kit, perhaps indicating that Becks isn't going to spend any time on loan at a club in Europe this year? Also, this new colourway is a great match for the new England Kit too – Hint, hint Fabio!

Looking closely at Becks in the new White/Uniform Blue Predator_X DB we can see that old habits really do die hard, though, as Beckham is still sporting his not-for-retail PowerSwerve/Predator_X Hybrids.
Distinguishable by their curvy heel counter, it's clear that – even after 3 signature colourways in these football boots – Beckham still prefers some of the technology offered to him by the outdated Predator PowerSwerves.
Becks' version also has an all-white sole that isn't on the retail model.
We think this might well be the best Beckham Predator_X DB yet, the understated colour scheme has a clean, athletic look that really shows off the technology of the boot – we can't wait to get our hands on a pair!
It's a shame, though, that these football boots – like the rest of the new Predator_X's – suffers a price-hike, meaning you'll be paying up to £150 for these boots when they launch on February 1st 2011.
But it's what you think that matters most, use the Boot-O-Meter and the comments to tell us what you think of these football boots!
BECKHAM'S NEW PREDATOR_X, 8.8 out of 10 based on 94 ratings