Beckham's New Football Boots – Adidas Predator Absolute Globe
German football boot supremo Adidas have announced that David Beckham will be officially unveiling his new football boots in his first game for new club LA Galaxy against Chelsea on July 21st. The new Adidas football boots have been specially designed for Beckham, and in recognition to Beckham's global reach, exposure and marketing power, the new football boots will be called Adidas +Predator Absolute Globe. The football boot is already on sale as the Adidas Predator Absolute DB Swerve, and the name "adjustment" is testament to the expected impact and activity of Beckham's arrival in the States as part of his expected $250 million, 5 year deal.
Adidas Predator Absolute Globe Football Boot Images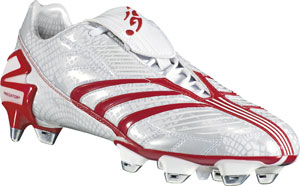 Adidas Predator Absolute Globe Football Boot
The Adidas +Predator'® Absolute "Globe" is a part of the 7th generation of Predator'® football boots exclusively designed and developed with and for David Beckham, featuring a uniquely created map graphic which symbolizes the global impact that David Beckham brought to every single corner of the football world.
Verdict: Love him or hate him, you cannot ignore Beckham, and his marketing power is immense. But can he bring "soccer" to the Amercian masses, and succeed where legends such as Pele and Best failed? Adidas clearly believe he can – Footy Boots thinks the task is too big even for a superstar like Beckham, as we are not convinced that one player can carry a whole league to a country of 300 million!
Read more on Beckham's New Football Boots.