We're all about variety here at Footy-Boots.com, especially when it comes to our football boots! And if there's one brand we don't see enough of, it's got to be Asics.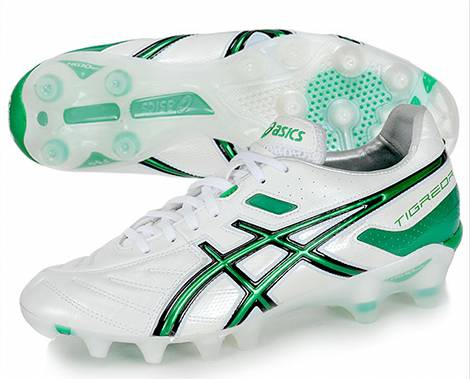 But these stunning-looking White/Green/Black Lethal Tigreor III's caught our eye and we had to share them with you!
We've featured the Lethal Tigreor before here on Footy-Boots.com and gotten a great response from you guys; and rightly so! The Asics Lethal Tigreor III is a fantastic looking boot, but many of you didn't like the translucent sole on with the original black colourway.
But here, coupled with a white leather upper, we definitely think that Asics are onto a winner. And if there's one colour we don't see enough of on football boots, it has to be green – which looks great used sparingly here on the classic Asics logo and heel counter.
Whilst many view Asics footwear as primarily for Rugby, there's been many advocates of their football boots on the soccer pitch too, especially in Italy.
Players like Antonio Di Natale have been wearing their cleats for years, and have given the Japanese brand some real cult presence on the European continent.
Some of the best features of the Asics Lethal Tigreor III include a full K-Leather upper, Asics patented SoLyte soleplate, and a biomechanically enhanced in-boot design that raises the heel by 10mm over the toes to take the strain of the game off your lower back, calves and Achilles' tendon.
We know that some of our readers will have seen these football boots for a couple of months now, as Asics gave them an early release in Japan, China, Australia and New Zealand but it seems that they're slowly becoming available to so Euorpean retailers too – so keep a sharp eye out!
Do you share our enthusiasm for these football boots? Or are they not your cup of tea? Let us know!
ASICS LETHAL TIGREOR III – WHITE/GREEN/BLACK, 9.0 out of 10 based on 61 ratings