Whenever Arsenal and Manchester United meet on the pitch, it's always sure to be a real corker – and as if the top players involved didn't need any more firing up, Nike have reminded them to #MakeItCount on their football boots!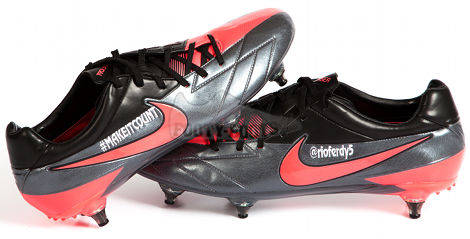 Rio Ferdinand's customised Nike T90 Laser IV in Black / Solar Red
Following the reveal of their latest top-secret initiative later today, some of Nike's biggest stars will meet on the pitch at the Emirates in a clash that could well decide the course of the Premier League season.
To mark the occasion, four players will be carrying the #MakeItCount message onto the pitch with them on bespoke football boots that also have their Twitter handles embroidered into the sides.

Alex Oxlade-Chamberlain's bespoke CTR360 II in Loyal Blue
All of the players that are receiving a pair of these specially-customised cleats have been taking to Twitter to tell us how they're planning on upping their game in 2012, with Nike's special hashtag #MakeItCount being at the centre of a global statement of intent from the whole world of sport.
With the European Championships and the Olympics both landing in the summer, the world's elite athletes have to start going hard now if they want to be at their best for the some of the most prestigious sporting events in history.

Theo Walcott's #MakeItCount Superfly III's in Metallic Purple
Since the launch of the campaign on New Year's Eve, Arsenal's Alex Oxlade-Chamberlain declared that "The year ahead is all about turning potential into performance – every single day", whilst Rio Ferdinand simply stated "'More to Learn. Plenty to teach".
Culminating this weekend, one of the biggest games of the year gives both players and their team mates a great chance to prove that 2012 will be the year they Make It Count.

Wojciech Szczesny will be rocking these CTR360 II's in Loyal Blue
Which is your favourite of the four boots?
And who do you think will 'Make It Count' at the Emirates on Sunday?