World Cup winner Alan Ball first showcased his distinctive white football boots in the Charity Shield at the beginning of the 1970/71 football season.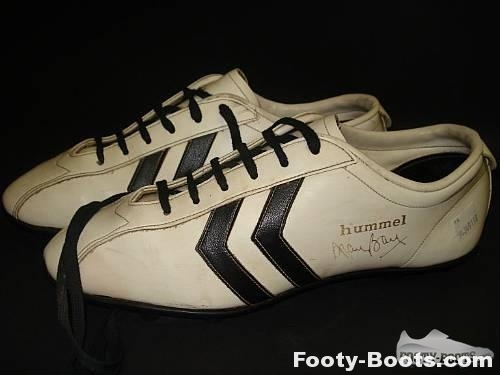 Why did he wear white boots?
Alan heard a rumour that the boot manufacturer Hummel, were looking for a professional to wear their white boots and were prepared to pay £2,000. He took them up on the deal, only to be disappointed, he said
"To be honest lads they were crap, like cardboard, so I got the young apprentices to paint my Adidas football boots white. It was great, till one day it rained and the black came through. A not too happy watching Hummel rep saw what I'd done so I said goodbye to the two grand."
Update: We spoke to the Hummel executive involved in this deal, here's the scoop – History of the White Football Boot
Picture: Alan Ball in his white boots.