Two of the Premier Leagues fastest players go head to head on a 45 metre track, to see who is the fastest.
Football evolves. Gone are the days when a shoulder barge on the keeper standing on the goal line will result in a goal, or when a two footed lunge on the strikers achilles is a fair tackle. Football boots are no longer ankled boots, with studs nailed into the sole. Players have changed too, it was commonplace in the 80's for the lad's to have a 'skin full' and then train, or even play the next day. Footballer's are athletes, focused on making their body a finely tuned machine that will give maximum performance in a game. Football players work on the speed, short, sharp runs, quick off the mark and over six yards. How quick are the modern footballers? Who is the quickest?
Introduce Gabriel Agbonlahor and Aaron Lennon, two young English talents playing at the top level of the Premier League, both known for their pace.
Introduce a 45 metre course, put them head to head and clock their time.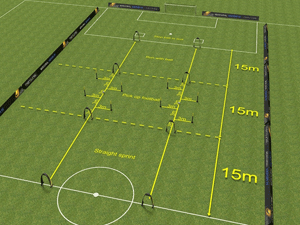 Nike have set up the race " Who is the Fastest", with both players showcasing the new Nike Mercurial Vapor IV football boot.
Lennon looks good dribbling at speed with the ball, Agbonlahor is flying without it.
First to reach the football? Agbonlahor in 6.49, Lennon in 6.53 seconds. Can Agbonlahor hang on to the lead when he weaves in and out with the ball?
Find out by watching the video's in our Football Boots TV player on the homepage.
Think your quicker? Send your video to us at footballboots @ footy-boots.com