THE NEW ADIPURE IV IS AVAILABLE NOW – CHECK IT OUT ON FOOTY-BOOTS.COM
Everything about the adiPURE II says elegance and class. The adiPURE II is expected in the shops next month, so we thought we'd share a new colourway with you….
Featuring the finest materials allowing a natural ball feeling, an embroidered logo on the collar, asymmetrical lacing for a cleaner kicking surface and an adiPURE II sign-off on the outsole plate. This finely crafted football boot is built for the beautiful play of the football purist and provides him with pure comfort.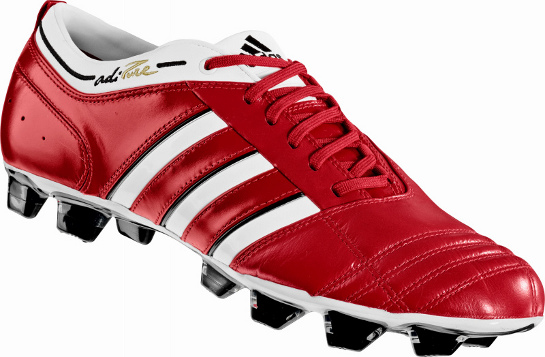 The adiPure II player knows the game because he loves the game. They are footballers like Kaka, Van Persie, Benzema, and Lampard who inspire their teams with their natural elegance. They are graceful playing in any style, ensuring that it leads to a victory. The authentic style relies on all the timeless, handmade details and elegant design that make a boot pure.
' Specs
Hand crafted for comfort, quality and performance. A pure and sleek design that is all football. Features superb fit, supersoft leader upper and firm ground TRAXION outsole.
Upper: Welded 3-Stripes. Asymmetrical loop lacing for better ball contact. K-Leather for durability, lightness and glove-like fit.
Lining: Synthetic.
Inlay: Pre-molded sockliner with EVA patch in the heel for additional comfort.
Outsole: TRAXION FG for grip and comfort on firm natural surfaces. TPU Plate for lightweight performance and durability.
Players: Frank Lampard (Chelsea), Philipp Lahm (Bayern MÄ'Ä˝nchen), Xabi Alonso (Liverpool), Vicente (Valencia), Alessandro del Piero (Juventus), Karim Benzema (Lyon) David Tr'©z'©guet (Juventus)
Price: £99
Colourways: Black | Running White | Metallic Gold, Running White | Black | Metallic Gold, Running White | Sport Red

Release Date: January 2009
Order yours, UK HERE. The' adiPure II football boots.