The MLS season is ready to kick off next month, and with The Galaxy playing the curtain-raiser against the Seattle Sounders, it's no surprise we find Beckham training hard with Landon Donovan & co. What was surprising was catching Becks in an all-white adiPower!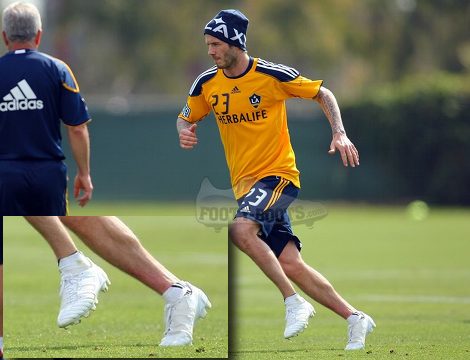 We've seen plenty of black-out adiPower black-outs on the feet of stars like Steven Gerrard, Kaka and Per Mertesacker – but Becks is the first we've seen to have an all-white pair of these upcoming football boots!
We reckon this is so the disguised adiPower looks more like Beckham's Running White/College Blue Predator_X, rather than hinting at another signature colourway for Beckham – after all it'd be weird seeing Becks in a pair of black football boots after years of bold Predators!
One thing's for sure, these are the most revealing shots of the adiPower yet, and thanks to the former-Galactico being "The Most Photographed Man in Sports ™" there's plenty of them, from all sorts of angles.
Similar to the pair we saw Kaka in earlier this month, we can see that the soleplate on these cleats is fairly substantial, with thick heel-end blades for support; this is in stark contrast to some previous black-out's that we've seen, which seemed to suggest adidas' next football boots might be sporting an adiZero-style Traxion soleplate.
As for the upper, it looks like fans crying for the return of the classic Predator tongue will have to wait a bit longer. From photos of the top of the adiPower, it looks to as as though the lacing will be 'exposed', but interestingly we can also see it will use a more traditional lacing system – rather than the 'wrap-around' of the Predator_X's design.
Judging by the stitching on the toe and instep, we're in for another leather Predator, but it still remains to be seen whether adidas will use their Taurus leather or a more traditional K-Leather on their flagship football boots.
The one thing we can't get a good look at, however, is the instep of the boots – where we anticipate the signature Predator 'element' will reside.
From what we can tell, there's 3 stripes on the toe-end of the arch of the foot, which is a great place for striking the ball, but we can't see if there's a difference in texture or material to determine whether these are part of the adiPower's presumably 'powerful' striking zone. We can't wait to see though!
Excited to see what adidas do with their next big football boots?
Or would you prefer a more 'classic' Predator?
Drop a comment and get your voice heard!