With the domestic seasons drawing rapidly to their dramatic conclusions, adidas are already looking forward to the Euros with the official launch of the Tango 12 Finale – the ball that will be used at the final of this summer's European Championships.
When the two best teams in Europe meet at the Olympic Stadium in Kiev on July 1st, the ball used to contest the winners of the tournament will be a slightly different version to that used throughout the Group and Knock-out stages.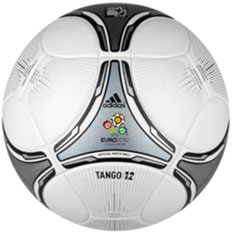 Whilst the ball will still be a Tango 12 under it's fancy new paint job,  the adidas Tango 12 Finale will boast a clean, White, Black and Silver look – a definite contrast to the 'standard' design, which uses the colours of the national flags of the two host nations.
As well as baring the official logos of the tournament, the Tango 12 finale also features some additional graphics on the panels themselves, marking it out as a particularly special piece of kit.
Launched at an event in Spain, adidas invited European Championship-winning Goalkeeper Iker Casillas on stage to talk about the ball and his predictions for this summer's showpiece.
What do you think of the Tango 12 Finale?
Let us know in the comments!