Whist the Premier League season is pretty hype this season, La Liga is packed full of exciting new faces and Serie A's sleeping giants – Napoli and Roma – are mounting serious title challenges, every football fan in the world has eyes on the end of the season and the 2014 FIFA World Cup. It seems that that fervour has also breached Herzogenaurach, as adidas have created the Samba Pack – a range of football boots that are 'Built for Brazil'. https://www.youtube.com/watch?v=EbrC1kunFI0 Designed to reflect the 'Carnivale' spirit of the country, adidas' Samba Pack football boots are an eclectic mixture of bright colours and new football boots designed to get pulses racing and feet moving. As if the colours aren't enough to entice all but the most ardent fan of old-school footballing footwear (and, lets face it, they can always go back to the Enlightened Pack) adidas have even thrown two new football boots into the mix in the form of an all-new adidas F50 adiZero and adidas adiPure 11pro.
Each of the new boots disregard their previous design conventions, adopting daring contrast lacing and glorious lining on the heels and instep, as well as bold block colours for the Predator LZ II and Nitrocharge.
Despite being 'Built for Brazil', the boots of the adidas Samba Pack will likely never see the pitches of Rio, with adidas promising these cleats are an aperitif, to get boots fans excited for what's to come in time for next summer.
  As you might expect, you'll see full, in-depth looks at the new editions of the adidas F50 adiZero and the adidas adiPure 11pro tomorrow on Footy-Boots.com, with exclusive, in-depth photography of each of the new cleats – as well as up-close looks at the new Nitrocharge and Predator.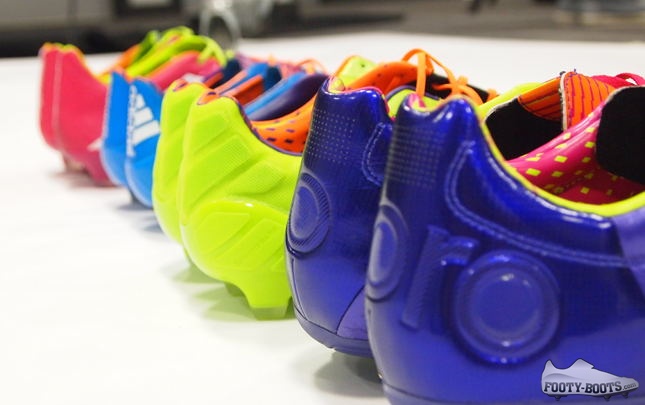 Set to hit pitches this weekend, expect to see all of adidas' biggest players donning these brightly coloured boots over the coming days and an official retail release at the end of the month. As official technical supplier to FIFA, it's no surprise to see adidas throwing so much creativity into hyping up the World Cup. That said, with the adidas Samba Pack being so gash-darn handsome, we can't wait to see what boots adidas release for the big event itself!
ADIDAS SAMBA PACK FOOTBALL BOOTS LAND TO CELEBRATE UPCOMING WORLD CUP, 8.6 out of 10 based on 129 ratings