Kicking off the new year in style, the brains in Germany have whipped up yet another classy colourway for the latest Predator – the adidas Predator LZ – White / Black / Gold!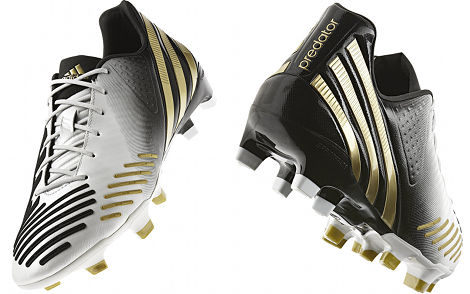 An almost-exact inversion of the Gold/White/Black Predators that launched about six months ago, the adidas Predator LZ' – White / Black / Gold' is a definite winner in the looks department.
Taking the classic White and Black upper and trimming it with Metallic Gold branding, studs and zones on the forefoot add a definite touch of class.
And that's something adidas can definitely be applauded for – when we think of previous gold releases, they walk a very fine line; either overly-flashy (like the Nike AZT90 III) or masterful brilliance (like the Black/Gold adiPures or the Nike Tiempo Premier) – it's a tough balance to get right.
Despite a frosty first impression from many – mainly down to it's title as the first non-natural-leather Predator – the adidas Predator LZ' has grown in critical acclaim and fan presence, as many have given them a chance to impress.
Now available in just about every colour under the sun, the Predator LZ' is one of the best-fitting boots on the market today, with a wonderfully contoured fit that really envelopes the foot for superb comfort and ball feel.
Of course, The real signature of the latest adidas Predator' is the five Lethal Zones on the upper – working with elite players, adidas were able to establish which areas of the foot people most used for making contact with the ball in various situations, then created unique zones to enhance the control and ball contact.
Available from today, you can buy the adidas Predator LZ' – White / Black / Gold' from the Footy-Boots.com store for £155 / $210.
ADIDAS PREDATOR LZ – WHITE / BLACK / GOLD, 9.3 out of 10 based on 40 ratings