Is there a football boot on the planet at the moment that generates as much daily discussion as the Predator?
Some fans have embraced the bright colours and control focused nature of the Lethal Zones concept, whilst others lament the garish hues and pine for the days of a 'proper' power Predator.
Well, since launching the updated Predator Lethal Zones II late last month, it seems adidas are happy to keep that conversation going by revealing the alternate launch colourway for the LZ II – Black / White / Green!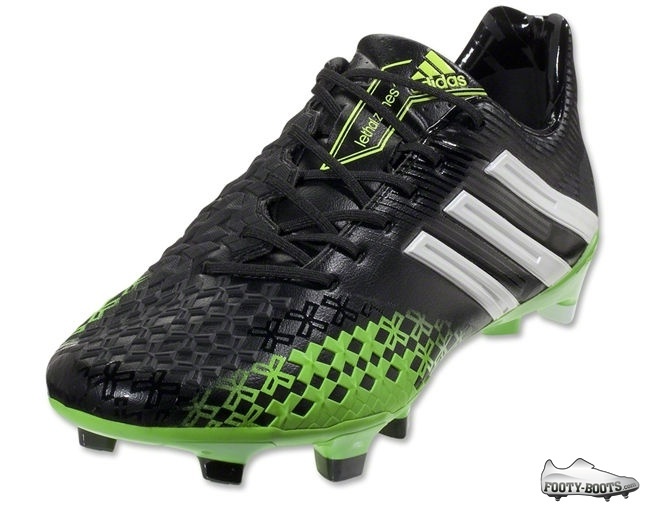 Definitely one to try and win over the purists, the Predator Lethal Zones II – Black / White / Green keeps things a little a simpler than the other launch colourway by toning back the colours a little, and ends up looking like a completely different boot.
Sticking with a black upper and white three stripes, this LZ II is as close to a 'traditional' Predator as we've seen in a good while, bringing in a 'pop' green to help the boots stand out on the pitch.
As well as winning over amateur Predator veterans, perhaps adidas also have to consider their professional stalwarts when launching a boot.
Whilst Oscar, Mata and the rest of the 'new generation' of more technical Predator wearers have grown up with bright coloured boots, there's still old hands like Steven Gerrard, Petr Cech and other 'power' players who prefer a mostly-black boot.
After a good week looking at the Predator's new design, and even giving them a quick try out, it's definitely grown on us the more we've spent time with it.
The new features, such as the restructured Lethal Zones are definitely a good look – as well as giving a nice feel for the ball when striking or passing.
And excellent features like the SprintFrame and HybridTouch upper have carried over on to this model, too – so there's plenty to get excited about on this release.
Available to pre-order now, keep an eye out for the Predator Lethal Zones II – Black / White / Green on the pitch this summer. 
adidas Predator LZ II | Black / White / Green, 9.0 out of 10 based on 2 ratings