After drip-feeding the F50 and adiPure of the new 'Earth Pack' football boots over the last month, adidas have splashed out and dropped the new Predator and Nitrocharge 1.0 – Earth Green / Solar Zest / Running White as part of the grand reveal.
Designed and inspired by the Brazilian rain forests and city of Manaus, the adidas Earth Pack' combines dark, natural tones and bold statement colours to reflect the jungle and its flora.
The result is definitely one of the more interesting looks we've seen on the Nitrocharge in a little while, harking back a little to the Forest Green update we saw a little after launch.
Earth Green might not be the most conventional colourway for a cleat in the world, but it certainly ads a slightly military feel to the rough-and-ready Nitrocharge.
As for the features of the Nitrocharge 1.0 – Earth Green / Solar Zest / Running White, you can look forward to the same suite of top tech that has come to characterise the high-energy boot since its launch a whole year ago.
The Nitrocharge is a boot that's designed to keep players who are at the heart of the team performing at their best for longer.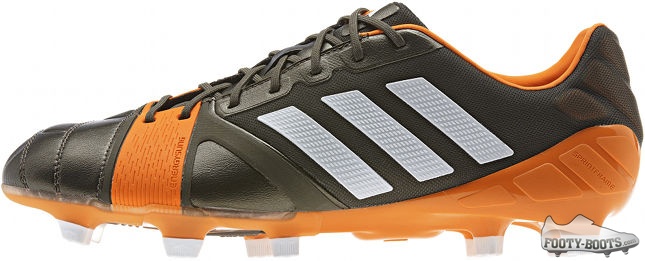 The upper combines Hybridtouch in the forefoot and a running-shoe-style mesh in the heel and midfoot. Up front, the Nitrocharge 1.0 offers superb touch with a style of upper similar to the Predator and new F50.
Whilst in the back, the mesh provides a fit similar to a world-class running shoe, making sure they're comfortable from the first wear.
The headline feature is the EnergySling that you see across the toe of the boot. Made of high-density rubber, the EnergySling aims to maximise energy output of the player wearing the boot.
A lofty ambition; the EnergySling works like a three-point harness that secures the toes into the front of the boot, meaning that Nitrocharge works in a 'one-to-one' motion with the foot by reducing slippage.
Under the toes of the Nitrocharge 1.0 – Earth Green / Solar Zest / Running White, you'll also find the EnergyPulse; an additional layer of TPU designed to stiffen up the soft SprintFrame that most adidas football boots share and provide greater energy return.
Speaking of the SprintFrame, the Nitrocharge 1.0 uses a slightly modified version of the model we've come to love from the adiZero, with Traxion 2.0 studs that are designed to allow free rotation and fast engagement of the turf.
You'll see the Nitrocharge 1.0 – Earth Green / Solar Zest / Running White' first in action in the Champions League, with an official debut set for April 1st where you'll be able to see Javi Martinez and Dani Alvez lace them up for the first time that week.
What do you think of the new Nitrocharge coloruway?
Let us know in the comments!
adidas Earth Pack Nitrocharge – Earth Green / Solar Zest, 8.5 out of 10 based on 26 ratings