adidas are kicking off a brand new campaign to tell the story of Leo Messi (so far), and it all starts here – with the adidas Messi mirosar10 f50 adizero.
After featuring just about every other colour on the spectrum in the past, adidas are taking inspiration directly from Rosario, Argentina for the Barca forwards' latest signature football boots – the place of Leo Messi's upbringing.
The name mirosar10 translates from Spanish to 'my Rosario' with the number 10 given prominence in the naming, in the same way Leo has himself given prominence to this number for both club and country.
As you would expect, the adidas Messi mirosar10 f50 adizero are a  unique design, with the colourway looking stand-out in Orange and Green – two colours which played a big part in Messi's early football career.
The orange of these football boots signifies his first ever club, with the green representing their fiercest rivals, who Leo scored 4 goals against in his first significant 11-a-side game as a young child.
The boot insoles are printed with a map of Rosario, Messi's home town in his beloved Argentina, which is highlighted throughout along with the Batallon pitch – an abandoned military base field that Leo used to sneak onto through a hole in the fence to play football with his friends when he was a small child.
Four-time Ballon d'Or winner Leo Messi has torn up the history books in recent years, breaking many records in the process and his incredible goal haul at the age of just 27 confirms his place as one of the best players to ever play the game.
Having eclipsed Gerd Muller´s 85 goals in a single year in 2012, Messi has gone on to score over 400 career goals, and these unique boots are testament to where it all began in Rosario, Argentina.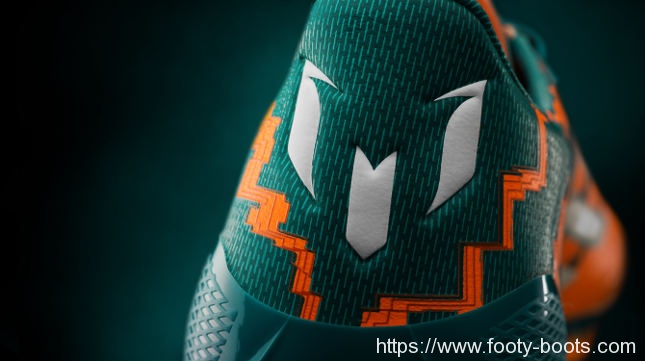 As we mentioned, the Three Stripes are aiming to give a little more insight into the 'legend' of Leo Messi through social media, short videos and future product, with the adidas Messi mirosar10 f50 adizero being the first step.
But adidas want fans to also use these cleats to start writing their own legend, encouraging players to design matching insoles inspired by their home town – with a chance to have them made reality via competitions on the Team Messi and adidas social channels.
The adidas Messi mirosar10 boots are available from Monday 1st December for purchase in selected adidas retail outlets.
What do you think to the adidas Messi mirosar10 f50 adizero?
Let us know in the comments!