From the 1st of March 2015, footballers around the world have a new option when it comes to buying a pair of adidas football boots by picking from the new adidas Gloro collection.
A combination of some of adidas' most classic design elements along with some modern touches to keep the new Gloro on-point for the modern footballer, we've got a feeling these will prove very popular.
What's the Gloro all about, then? Well, this is more or less a direct competitor to the Nike Premier and other reasonably priced heritage-styled football boots.
For £80 or $110 US, the Gloro offers a boot that is either stellar or completely solid (depending on how flash you like your boots) for a price below any of the 'statement' releases.
The adidas Gloro packs a K-Leather forefoot vamp with premium stitched construction laid out in a classic style.
Six colours will be available across all regions eventually, featuring either a Core Black or White upper, with either Red, Yellow, Blue, Green or Black as a contrast pop on some of the more interesting elements.
Which, as you'll have noticed by now, include a foldover tongue with an elastic strap. A favourite feature of many of the most popular Predator models, we've got to say it is making a very welcome return here on the Gloro.
adidas have also stuck with either Black or White for the iconic Three Stripes on either flank of the boot, too – something we're definitely digging here at Footy-Boots.com
Whilst the forefoot is natural leather, the rear quarter is a synthetic. Why? Well, adidas are following the trend that most heritage releases follow these days.
By creating the half of the boot least likely to touch the ball out os synthetic, they help drive down the weight, improve stabilisation, can layer up other materials for comfort and perforate it to help breathability.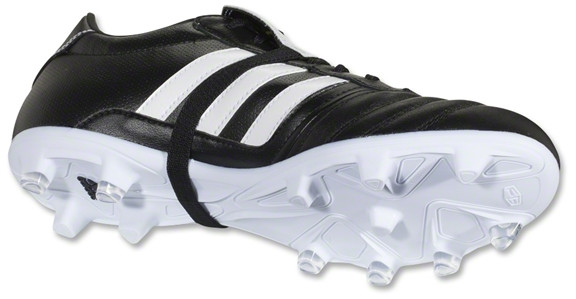 The adidas Gloro also boasts a modified version of the 'Comfortframe' outsole you'll find on the adidas 11pro.
By going with a single density construction instead of a two-layer design, adidas help keep the Gloro wallet-friendly, whilst also maximising durability.
Would you pick these over a 'takedown; model?
Or will they cannibalise sales of the 11pro and Copa Mundial?
Let us know in the comments!
adidas Launch Gloro Football Boots Collection, 8.9 out of 10 based on 38 ratings