Here's the latest incarnation of the highly successful Adidas F50.9 TUNiT in a true blue, running white and cyan colourway.
The new boots, which will be available from late March or early April, have already proved a big hit with Lionel Messi (who has his own signature pair), Valencia's David Villa, Arjen Robben of Real Madrid and Emmanuel Adebyaor of Premier League side Arsenal.
F50.9 TUNIT Spec
* The cooling comfort of CLIMACOOL meets the high-performance adaptability of TUNIT. Tune your boot to match the pitch, the heat, your skills and style.
* Upper: Additional synthetic upper supplied. Additional CLIMACOOL upper supplied.
* Lining: AgION antimicrobial. Stops odors, bacterial and fungal growth.
* Inlay: New exchangeable pre-molded TUNIT Standard Insock for premium support and cushioning. New exchangeable TUNIT CC Competition Insock for maximum weight reduction and breathability. New exchangeable TUNIT Standard Chassis for premium support and cushioning.
*Available in HG, FG and SG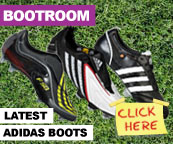 Sizes: 5 to 13
Colour: True Blue / Running White / Cyan
Retail Price: £ 120.00
Released: Late March / Early April 2009