With the Adidas F50.8 TUNIT only being on the shelves for a few months, we're surprised to find that the next generation of TUNITS are awaiting an imminent launch.
The Adidas F50.9 TUNIT is the latest model in the successful line of F50 football boots.
The F50.9 is the fourth generation of the F50 TUNIT concept and features both outstanding modularity and the innovative and transparent "AllesKlar" ("All Clear") element.
Top players around the globe have already started wearing the new F50.9 TUNiT football boot on the pitch and in training. Including Lionel Messi who has his own signature F50.9 the Messi F50.9.
F50.9 TUNIT Spec
* The cooling comfort of CLIMACOOL meets the high-performance adaptability of TUNIT. Tune your boot to match the pitch, the heat, your skills and style.
* Upper: Additional synthetic upper supplied. Additional CLIMACOOL upper supplied.
* Lining: AgION antimicrobial. Stops odors, bacterial and fungal growth.
* Inlay: New exchangeable pre-molded TUNIT Standard Insock for premium support and cushioning. New exchangeable TUNIT CC Competition Insock for maximum weight reduction and breathability. New exchangeable TUNIT Standard Chassis for premium support and cushioning.
* Outsole: Additional set of SG cleats and HG studs supplied. TRAXION FG for grip and comfort on firm natural surfaces.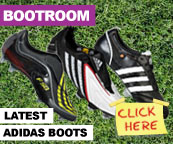 Sizes: 5 to 13
Colours: Black / Neon Yellow / Running White
Retail Price: £ 120.00
Released: December 2008 Tell us what you think of the ADIDAS F50.9 TUNIT