After the epic Tattoo Pack and a whole host of colourways to bring the new generation of adidas adizero into the spotlight, the Three Stripes have brought an all-new palette to the #ThereWillBeHaters f50 with this eye-catching Solar Green number.
Arguably a little similar to the Black/Green version shown off by Karim Benzema as an alternative colourway back in February, the new adidas f50 adizero – Solar Green aims to be a little more bright and bold – just in time for Spring.
Decked out from sole-to-laces in tonal Solar Green, the new adidas f50 colourway certainly looks eye-catching.
The scaly finish on the upper combined with the 'ghost' graphic and green colour definitely give them a movie-monster aesthetic that's thankfully a little more 'Incredible Hulk' than 'Slimer from Ghostbusters'.
Finishing things off are black branding and call-outs, with the tongue and heel boasting the famous Three Stripes of adidas, along with the logo on the instep.
The inner lining of the boot brings in a metallic chrome finish that looks especially good with the black trim.
Having already rattled through two of the new f50 colourways as well as a miadidas custom job, Gareth Bale is one player who is confirmed to be lacing up this striking new colourway.
Other f50 stars with the option to wear the new adidas f50 adizero – Solar Green will include Karim Benzema, Luiss Suarez, Arjen Robben and Diego Costa, not to mention adidas newcomers Theo Walcott and İlkay Gündoğan.
Technically, the adidas f50 adizero – Solar Green is as strong as ever, with a full, single-piece Hybridtouch upper that moulds to the foot, finished with a 3D Dribbletex print that offers up superb control in all conditions.
The new soleplate offers up secondary levels of traction that grip the turf when the 'primary' studs are fully sunk in, resulting in more grip on less-favourable pitches.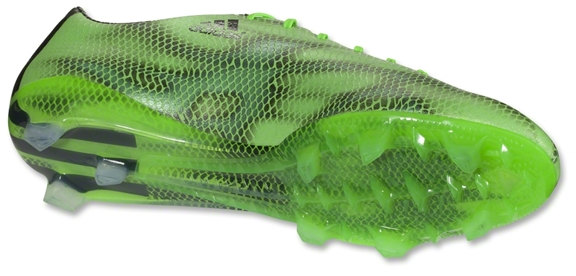 What's your take on the adidas f50 adizero – Solar Green?
Will you be picking up a pair when they launch April 1st?
Drop us a comment and let us know!
adidas f50 adizero | Solar Green, 8.6 out of 10 based on 9 ratings