If there was ever a colourway for a pair of football boots that was going to be a hot-seller, it's going to be a black-out adidas F50 adiZero!
And here it is! After the amount of professional players we've seen bustin' out the marker pens to black out their ultra-light adidas soccer cleats, it was only a matter of time before adidas saw what us players were after and capitalised with a sleek, minimalist design for the adiZero.
As you can see, all logos, branding and detailing (including the legendary adidas 3 Stripes) are blacked-out (aside from the tongue) with the rest of the boot giving a really simple-yet-deadly look.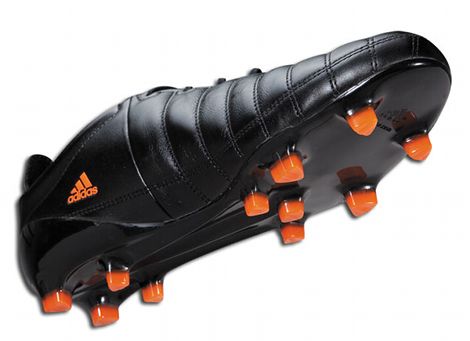 We are big fans of the flash of colour on the studs though, the 'Warning' shade of orange has been a big favourite at adidas since it was used on the adiPure III a few months ago, and it ads a certain 'spark' to the overall feel of these ultralight football boots that we reckon loads of you are gonna love.
It's our understanding that these adiZero's will have the unusual honour of only being available with the Leather upper, meaning that if you fancied a sleek synthetic boot, you might have to look elsewhere.
Whilst many pros hold the leather adiZeros as their football boots of choice, we know that many of you guys prefer the synthetic version to the leather, as it is 10g lighter and includes the very impressive internal TPU support bands.
Despite these boots being available for Pre-Order now, adidas are giving you a whole month to get your order in as they will release on December 1st with an RRP of £124.99/$220 US.
So speed freaks – is this the boot you've been waiting for?
Wish they'd left the orange off?
Let us know in the comments!

ADIDAS F50 ADIZERO – BLACK/WARNING, 9.0 out of 10 based on 97 ratings