This weekend saw the first round of qualifiers for the next major tournament in European international football; the 2016 European Championships, and with it came something of a first from UEFA technical supplier, adidas.
For the preliminary stages, adidas revealed the official match ball of the Euro 2016 Qualifiers, a fetching new white footy with a red, silver and black mobius strip-style design across it's casing.
Traditionally, there is no official match ball for the qualifying games, with teams using whichever match ball their technical partner supplies their federation.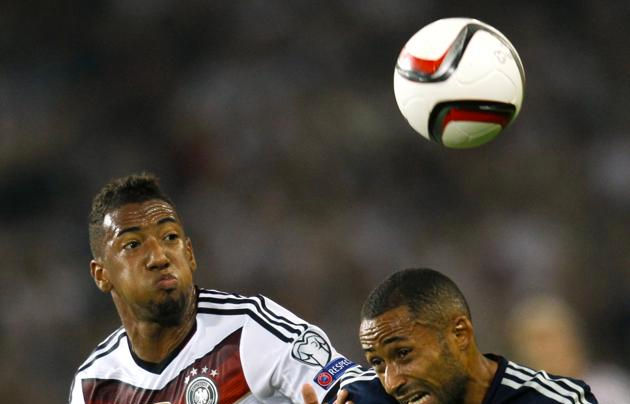 So, there was no small amount of confusion with the arrival of adidas'Euro 2016 Qualifiers ball. Would all teams have to use the 'official match ball' of the tournament from the get-go?
It would make sense, but apparently that's not the case.
If this weekend's round of games are anything to go by, only matches in which the home side are supplied by adidas will use the new ball.
As you can see from the images, the all-adidas clash of Germany and Scotland used the new ball, whilst Nike-sponsored home side Portugal used the Ordem in their match-up with Albania.
Why have adidas released this new ball, if not to be used across matches?
Well, we'd have to guess that the Three Stripes wanted a clean break from the Brazuca.
Even though this Euro 2016 Qualifier ball uses identical technology to the World Cup ball, the Brazuca was a massive success, amassing over 3.3m followers on Twitter, and becoming something of a household name.
With that in mind, it makes sense that adidas would want all their federations playing with a new match ball, free from the World Cup branding and colourscheme of the highly recongnisable Brazuca.
It does highlight a couple of concerns, though – for one, if the ball proves successful, could we see UEFA enforce adidas match balls used in all qualifiers for future tournaments?
And from a commercial point of view, we can't help but highlight that this match ball will be used for a significantly greater number of games than the official Euro 2016 match ball itself.
What's your thoughts? Let us know in the comments!