Unveiled on Footy Boots a few weeks ago, but now available to order, the new Red/ White / Black adidas adiPure II's.
So, if you weren't already spoilt for choice when thinking about gearing up for the new season, here's yet another football boot you can add to your wish list.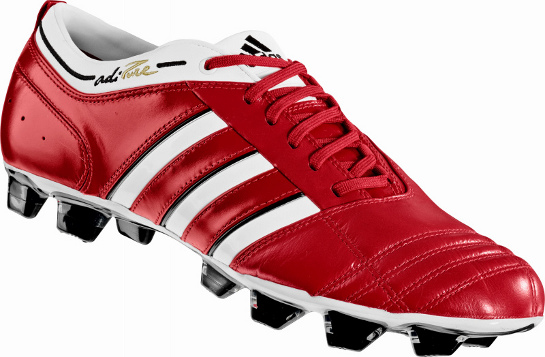 The new hand-crafted football boot, remodelled for 2009, is made from 100% K-leather which moulds to the shape of your foot, making it one of the most comfortable boots on the market.
It incorporates a new upper with assymetrical lacing for a glove-like fit.'  The football boot also includes a pre-moulded sockliner with additional EVA inserts for comfort and cushioning as well as Traxion outsoles for unrivalled performance and grip.
Already known as a classic and well loved by many, the adiPure II is likely to get more attention than ever next season with all the hullabalo surrounding Real Madrid. New signing Kaka is one of the brand's biggest names and is soon to be joined in all probability by another major adidas name, Karim Benzema.
And if you think that the new colourway is a bit bright for your taste, then we are told that there is another adiPure that should be on sale in September that will most definitely appeal to a completely different audience (Brown adiPure).
Tech Specs Hand crafted for comfort, quality and performance. A pure and sleek design that is all football.
Upper: Welded 3-Stripes. Asymmetrical loop lacing for better ball contact. K-Leather for durability, lightness and glove-like fit.
Lining: Synthetic.
Inlay: Pre-molded sockliner with EVA patch in the heel for additional comfort.
Outsole: TRAXION FG for grip and comfort on firm natural surfaces. TPU Plate for lightweight performance and durability.
Price: £99