adidas continue their run of monochrome masterpieces as they ready the release of the adidas adiPure 11pro – Whiteout.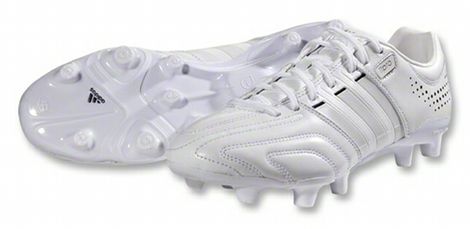 Whether you want to call it White/White, Triple-White or Whiteout, we know what we want to call the new 11pro: Stunning!
If we had one complaint on the design of the otherwise handsome new adidas adiPures, it would have to have been the 'busy' use of colours, with the 'streak' of contrast colour up the toe a particular sticking point.
But now, the adiPure 11pro looks as pure as pure can be, with this almost-flawless finish.
Created with player comfort and ball control in mind, the adiPure 11pro takes the 'classic' modus operandi of the adiPure range and turns it into the sort of high-performing shoe that modern players demand.
With a Taurus leather upper, the adiPure 11pro features dual-cushioned studs and a unique 360-degree support saddle integrated into the famous three-stripes, designed to lock the foot in place for optimum comfort and stability.
Set for a June 25th release date, expect to pay £125 / $150 US for the adidas adiPure 11pro – Whiteout.