After looking at the new Absolion, those after a more versatile adiPower-based shoe will immediately be drawn to the new adidas adipower Predator Absolado football boots.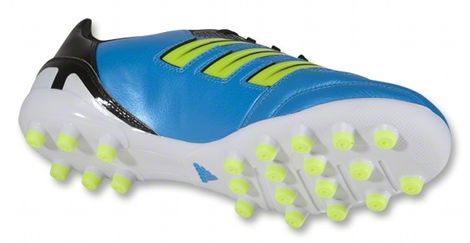 Available in a multitude of soleplates including FG, SG, AG, Indoor, Astroturf and this curious MG moulded config, there really is an adidas adipower Predator Absolado for all occasions!
But that's not to say that if you ply your trade indoor or on artificial ground you're 'stuck' with the Absolado – there's a lot that makes this a great pair of football boots in their own right.
For starters, the upper on the adidas adipower Predator Absolado is full grain Calf leather – a real commodity in the takedown model market – giving it a similar touch and feel on the ball to it's two bigger brothers – the adiPower and the Absolion.
There is a catch, however, as whilst the toe and instep feature a soft and supple leather area, most of the outstep is lined with a synthetic. That said, the area where you're most likely to pass, shoot and control the ball with these football boots is leather as you'd hope, meaning it's only a minor compromise!
The Predator Element, however, has a major overhaul on the Absolado, as it does with every new Predator.
Whereas previous generations of Absolado usually gloss over the element entirely, the adidas adipower Predator Absolado uses a combination of synthetics to actually give some texture to this Absolado's element, meaning that whilst not as drastic as the adiPower or Absolion, it does increase friction with the ball somewhat.
The sole of the adidas adipower Predator Absolado is markedly similar to the Absolion. Again, not built on the Sprintframe and with no external heel counter, the FG & SG's standard set-ups are solid, if unspectacular.
The generic nature of the sole of the adidas adipower Predator Absolado does have it's advantages though, as the rest of the boot then becomes easier for adidas to transplant to the great selection of soles mentioned earlier.
Thanks to the similarity to the Absolion, the weight between the two is negligible, but can vary due to the weight of different soles (the Astroturf version, for example, will always be the heaviest of any pair of football boots in a range, due to the extra cushioning.).
At £44.99/ $54.99, we think the adidas adipower Predator Absolado is definitely a good buy for a leather pair of football boots, and one of the best 'intro' level takedowns we've seen in a while.
But what matters is what you think!
Drop a comment and get yourself heard!
ADIDAS ADIPOWER PREDATOR ABSOLADO, 8.7 out of 10 based on 69 ratings