adidas have unveiled their latest annual update to the adi5 range with the new adidas adi5 X-ite turf shoes.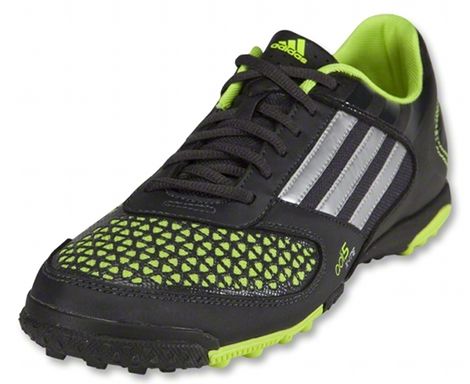 Designed to offer everything that the best small-sided game players need, the new' adidas adi5 X-ite focuses on combining the perfect first touch on one of adidas' lightest ever turf shoes.
The toe area of the' adidas adi5 X-ite is covered in a high-grip Touch Compound on the vamp, that allows for perfect ball feel and control; whether you're keeping the ball under your spell whilst sprinting or teasing the opposition with your close control, adidas say the latest version of the Touch Compound won't let you down.
Across the adidas adi5 X-ite you'll find strategically-placed mesh interspersing the durable synthetic upper, allowing plenty of ventilation where your feet need it most, whilst keeping the more delicate mesh away from areas most commonly abraded whilst playing football.
For those looking to stay light on their feet, the' adidas adi5 X-ite weighs in at 266g per shoe, thanks to a lower-profile Traxion rubber chassis, that brings your foot closer to the ground without sacrificing comfort.
Available to pre-order now, the' adidas adi5 X-ite turf shoes will ship from mid-January, retailing at around £40/$64.99.
What to you think to adidas' latest turf shoes?
Let us know with a comment!
ADIDAS ADI5 X-ITE TURF SHOES, 8.8 out of 10 based on 27 ratings