We love 5-a-side here at Footy-Boots.com, and as such we love to check out the best gear that goes with it – so whilst these aren't strictly football boots, we're hoping you're going to love the new adidas adi5 astroturf trainers all the same!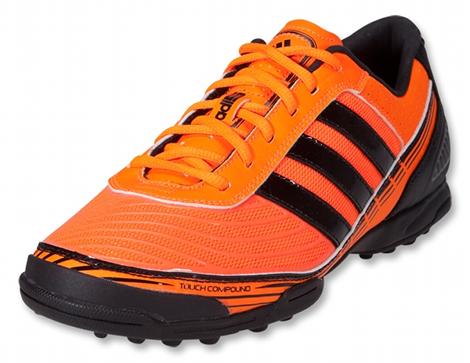 Continuing adidas' adi5 range from it's previous incarnation, the new adidas adi5 seems to follow adidas' current trend of of skimming weight off just about everything, as these astroturf trainers look a little less bulky than the last adi5.
Weighing in at 295 grammes, the adidas adi5 might well be twice the weight of the new adiZero PRIME, but adidas have been sure to pack in as many features into their signature small-sided-game shoe as humanly possible.
Dictated by the motto 'Control. Don't be Controlled', the new adidas adi5 features a specially designed 'Touch Compound' that sits along the forefoot, increasing friction with the ball.
This allows the rest of the upper to remain breathable and flexible, leaving adidas to claim that the new adidas adi5 is the ultimate combination of Comfort and Functionality.
adidas' specially design XTRF sole is the main source of the adidas adi5's weight, but adidas claim it's essential to the shoe's durability – claiming that it's every bit at home on tarmac and asphalt as it is on artificial grass.
Staying on the soleplate, you might notice the 'adiPrene' logo on the heel – adidas say when playing football, the stress and impact of some moves can leave the heel area of the foot coping with forces equivalent to 8 times the wearers's body weight – adiPrene in the heel makes sure that the new adidas adi5 helps distribute that force and keep the wearer as comfortable as possible.
Whether you're playing a game of 5's on a weeknight after work or school, or quick calcetto in the summer sun, adidas say their synthetic/mesh combination upper is the perfect blend of materials for your game.
Whilst the top of the foot is mostly mesh – allowing heat to escape as it rises of the foot – the newly-designed instep, toe and heel of the adidas adi5 is a lightweight synthetic, which ensures great surface-area contact with the ball when passing.
Priced competitively at £40/$60, the new adidas adi5 is a serious competitor to Nike's hugely impressive Nike5 range.
But tell us, what do you think of these astroturf shoes? Will you be picking up a pair?
Drop us a comment and tell us what you think!
NEW ADIDAS ADI5, 8.7 out of 10 based on 57 ratings