The unholy amalgamation of super-light technology and K-leather heritage is back for it's second colourway as the adidas 11pro SL – White / Black / Gold gets it's unveiling!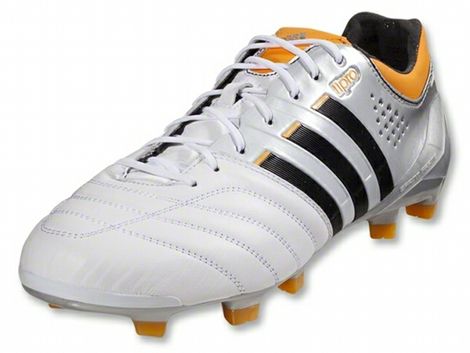 Weighing in at a boundary-shattering 180g, the adidas 11pro SL – White / Black / Gold is a boot that's not afraid to challenge what would have once have been considered impossible in the design world.
Combining a K-Leather forefoot (a step up from the Taurus leather on the 'standard' adiPure 11pro) with the same SprintSkin upper as the F50 adiZero, the adidas 11pro SL is almost a 50/50 split between a speed boot and a K-Leather classic.
Separating the two materials is the synthetic 360-degree support saddle; built directly into the iconic three stripes, this unique system pulls the midfoot snug, to provide superior fit and stability.
Dropping that weight even further is the use of the now eponymous adidas SprintFrame, complete with Traxion 2.0 triangular studs, and space for the miCoach Speed Cell in the left boot.
As with all adidas' 'SL' releases, it's unlikely that we'll see the adidas 11pro SL – White / Black / Gold receive any professional endorsement, but there's no doubt that this dynamite colourway will set plenty of tongues wagging.
Whilst we're not crazy about the starkly-contrasting angular heel counter with the classic stylings of the forefoot, props have to be given for adidas getting a K-Leather boot to that sub-200g mark.
With fierce competition from the like of the Puma King SL, Mizuno Morelia Neo and the newly-released Titan Leather Pelé Sports Trinity 3e, adidas' pricing for the adidas 11pro SL – White / Black / Gold definitely puts them at the 'prestige' end of the market, as they launch on June 19th for £175 / $250 US.
Like the look of the 11pro SL?
Then let us know in the comments!