Following on from two new adiPure 11pro colourways (which we featured yesterday) adidas have also released a lethal new aesthetic for the adidas 11pro SL – which now comes in Black / White / Pop.
Whilst previous 11pro SL's have focused on a 'fade' along the upper, the adidas 11pro SL' – Black / White / Pop' is one solid colour: Black.
And, wow, what a bold statement that makes! Whilst many adiPure wearers haven't warmed to the 11pro, we can see plenty of interest being whipped up around the adidas 11pro SL' – Black / White / Pop.

In a move similar to the launch colourway of the Tiempo Legend IV Elite, the latest adidas 11pro SL' colourway teams it's mostly-black upper with a 'pop' colour – in this case, it's literally called Pop.
Applied to the studs, laces, tongue and collar, there's enough Pop to really catch the eye – without overpowering the all-black upper.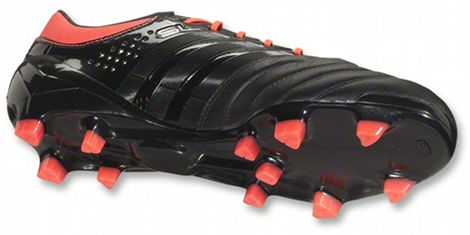 For those not familiar with the adidas 11pro SL, it's based off of the adiPure 11pro and features many of the same technologies, however adidas opt not to use adiPure in the name.
At 187g or 6.6oz, the adidas 11pro SL' – Black / White / Pop' is a truly 'superlight' release, matching the weight of many more traditional speed boot releases.
The forefoot is crafted in supple Kangaroo leather, protected by DuraCoating for increased abrasion and water resistance – whilst the midfoot and heel are formed in perforated microfibre to help the 11pro SL' keep the grammes off.
Carrying over from it's adiPure cousin is the 360-degree support saddle for improved stability and midfoot-fit, and the compatibility with the adidas miCoach Speed_Cell for real-time performance tracking.
If you plan on picking up a pair of the sleek-looking adidas 11pro SL' – Black / White / Pop, you can do so from December 3rd. But bring your chequebook, as the 11pro SL does come at a premium over it's stablemates; £170 or $250 US.
ADIDAS 11PRO SL – BLACK / WHITE / POP, 9.5 out of 10 based on 41 ratings