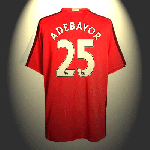 After England's 4 – 1 demolition of Croatia in midweek, it was hard to know if the weekend's Premier League action would live up to English fans now soaring expectations.
We shouldn't have worried.
First off Liverpool recovered from conceding an early goal to beat Manchester United 2 – 1. Robinho netted on his Manchester City debut but was powerless to stop Chelsea steam rolling to a 3 – 1 win, Hull City won 2 – 1 at Newcastle United (mind you, a pub team would have a fair chance at St James' Park these days) and West Brom recorded their first league victory of the season over West Ham.
Performance of the weekend though probably came from Arsenal who went to Blackburn Rovers and came away with a handsome 4 – 0 success with Emmanuel Adebayor scoring a hat trick in his Adidas F50 08 TUNiT football boots.
Theo Walcott continued his fine form from Zagreb to set up the first Gunners goal for Robin Van Persie before Adebayor took over. The Togo international headed home Denilson's cross just before half time, slotted home a penalty with 10 minutes to go and completed his trio running on to and finishing from a pass from debutant Aaron Ramsey.
It was a good day for Adebayor and for Adidas, particularly as the striker's F50 boots didn't get any midweek international exposure after the Arsenal man refused to play for Togo in Zambia after a row with the Togo Football Federation.
No doubt that Adidas were probably more than happy with the fact that a rested Adebayor certainly gave them their monies worth on Saturday.
Order these football boots here