At Footy-Boots.com, we've had the pleasure of meeting and interviewing some truly great players, many of them commanding impressive entourages and followers as we meet up with them to talk football boots.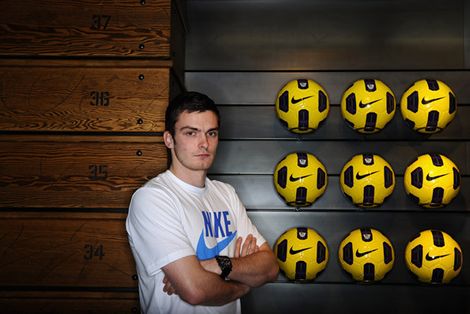 An interesting inversion of this, then, was our meeting with Adam Johnson of Manchester City. Despite the throngs of journalists and PR professionals organising and conducting interviews all around him, we found Johnson in the basement-level of Nike's newly revamped Manchester Football Store pouring over the NikeID program on one of the iMacs on the counter.
Our friends at Nike have asked Adam to design some custom, complete one-off football boots for Footy-Boots.com (that we can give away to one lucky winner) and we notice that the Manchester City Winger has gone straight for the Mercurial Vapor VI;
"It's got to be the Vapor, they're just lighter – like running shoes" he explains "And for me, they're narrow – which is perfect for my feet" and almost as quick as he decided on his boot, Johnson selects his base colour: Pink.
"Easily the best colour" he declares, when Footy-Boots.com asked him what he thinks of his current Pink boots – the Voltage Cherry Superfly II – Johnson looks away from the monitor to smile and sums them up in one word; "Wicked".
Sunderland-born Johnson is also very particular about how his custom boots are tweaked, opting to remove the lace cover on his Vapor VI's "Not a fan of that!" he says dismissively. At this point we mentioned to Adam that many Footy-Boots.com readers actually miss the lace cover of the Vapors.
"I know a lot of people like that, but I just don't see the point – when you get your laces through it, it doesn't really matter if that little bit's there or not, you know?"
As for the soleplate, Johnson explains "I've got to have the long studs, on most pitches nothing else is good enough – so I'm sticking with these, especially in the Winter"
By this point Adam has just about finished off his exclusive football boots for us, but quickly has second thoughts about giving away his creations.
"You know – I might get some of these made for myself!"
A Nike rep then steps in and explains that they'd happily have a pair made for him to knock about or train in – and maybe even play a game in. Johnson doesn't need asking twice and immediately starts to put the order in, but hits a snag;
"It's asking for size, but I don't really have one anymore! Normally I just ring Nike and they'll get me a pair made up for my feet – they don't really take a lot of breaking in then", we jumped at the chance to find out what else an England International has on his custom boots:
"Well, around the ankle I have it cut a little bit lower so there's a bit more room, it makes it more comfortable. And I also have an extra lacehole put in at the start of the ankle – all the old Vapors had the extra hole in" says Johnson, clearly nostalgic for his old football boots.
After deciding on his (approximate) size, Johnson looks at the screen, "They are sick! I'm definitely gonna wear 'em!"
We're going to be keeping a very close eye on Johnson's football boots in the future!
So, with two pairs in his shopping basket – one for himself and one for one lucky Footy-Boots.com reader, we thank Adam and wish him luck for the rest of the season before he's whisked off to another part of the Manchester Football Store for a photoshoot.
23 years old and already with 2 goals for England under his belt, brand liaisons and journalists alike respect him as a full England International and Premier League star. Johnson himself is more retiring, his focused demeanour very on task and matter-of-fact as you'd expect a true professional to be.
But, at the same time occasional dropping of the word 'Sick' or Wicked' when talking about his boots tells you more about the young Premiership player than any tabloid newspaper ever would!
We'll be exclusively giving away a pair of Nike football boots designed by Manchester City & England's Adam Johnson over the next month (when they arrive from the NikeiD Studio!) – so, for your chance to own a completely one-off Vapor VI, make sure you stay tuned to Footy-Boots.com!